Women earn more than 50% of all bachelor's and master's degrees, and nearly 50% of all doctorates.  The companies they start are more capital-efficient, produce higher revenue, and have lower failure rates than those led by men. It looked as if 2147  people who attended the Grace Hopper Celebration wanted to put an end to all the whining on "where are the women in tech?"Themed 'Collaborating Across Boundaries', this year's Grace Hopper Celebration (GHC) had attendees from 29 countries including 940 undergraduate and graduate students. The GHC of Women in Computing is a series of conferences designed to bring the research and career interests of women in computing to the forefront. The largest gathering of Technical Women in the World Presented by Anita Borg Institute featured keynote speakers Carol Bartz, CEO Yahoo!, Duy Loan Le, Senior Fellow, Texas Instruments and Technical Executive Plenary Panel on Collaborative Leadership for Driving Innovation. This year's GHC had attendees from 29 countries including 940 undergraduate and graduate students.
Below is a video footage which was gathered in the video booth that SAP sponsored at the 2008 Grace Hopper Celebration and it is inspiring enough to get more women 'Enter' the tech world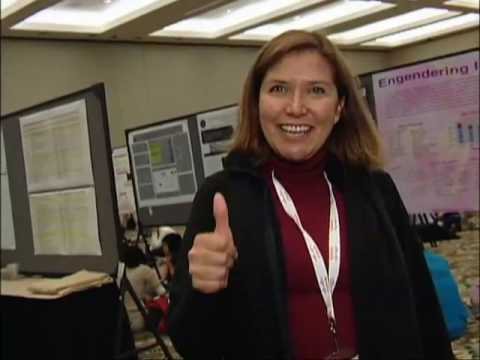 The Anita Borg Institute provides resources and programs to help industry, academia, and government recruit, retain, and develop women leaders in high-tech fields, resulting in higher levels of technological innovation. The Anita Borg Institute's programs serve high-tech women around the world by creating a community and providing tools to help them develop their careers. The Anita Borg Institute is a not-for-profit 501(c) 3 charitable organization. The Institute's partners include: Google, Microsoft, HP, CA Technologies, Cisco, First Republic Bank, IBM, Intel, Intuit, Lockheed Martin, National Science Foundation, National Security Agency, NetApp, SAP, Oracle, Symantec, Thomson Reuters, Wilson Sonsini, Goodrich & Rosati, Motorola Foundation, Yahoo, Amazon, Facebook, and Raytheon.
A video giving you more insights into what Anita Borg Institute stands for