According to the the fifth ranking of the 50 Fastest Growing Women-Owned/led companies in North America released by The Women Presidents' Organization (WPO), in partnership with American Express OPEN (the small business division of American Express), the Top 50 generated a combined $4 billion in 2011 revenues (mean of $80.1 million) and collectively employed 26,883 in 2011 (projected 34,550 employees in 2012).
BrightStar, a home healthcare and medical staffing company based in Illinois, has taken the top spot for a second consecutive year. Shelly Sun, president and chief executive officer, who plans to take her business public, saw her 10-year-old company's revenue double in two years from $51,732,716 in 2009 to $156,812,048 in 2011.
Shelly Sun, on her company BrightStar.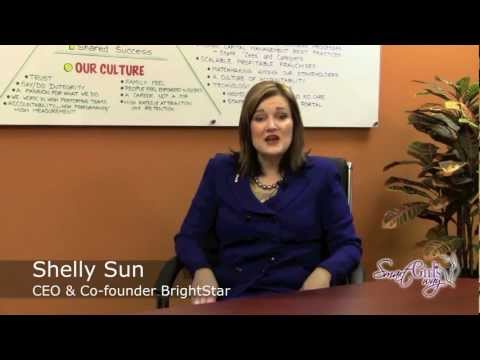 Cenergy International Services, LLC, a Texas-based energy personnel solutions provider, rose from 25th spot on the list last year to second place this year. The company has nearly doubled its revenues ($62,500,000 in 2009 to $165,000,000 in 2011) and employment (434 in 2009, 938 in 2011 and 1,100 projected for December 2012).
"This year's Top 50 list is our most diverse ranking ever, with 20 states represented and companies ranging from precious metal dealers to food service distributors," according to Marsha Firestone, Ph. D., president and founder of the WPO. "We are once again pleased to partner with American Express OPEN in paying tribute to these influential women and recognizing their achievements."
In order to help the Top 50 continue to seize even more business opportunities, each of the honored business owners will be offered a $500 American Express gift card and potential to be featured on OPENForum.com.
"According to our recent State of Women-Owned Businesses report, women-owned enterprises continue to grow and account for 29% of all companies in the United States," according to  Sarah Forger, manager of customer advocacy at American Express OPEN.
All eligible companies were ranked according to a sales growth formula that combines percentage and absolute growth. From this list, the 50 Fastest were selected. To be qualified for the ranking, businesses are required to be privately held, woman-owned/led companies in the U.S. or Canada and have reached revenue of at least $500,000 by the first week of 2007 and $2 million in 2011.
More about the 2012 Top 50:
The average revenue grew from $31.5 million in 2007 to $80.1 million in 2011
Founded the Business: 90%
Average age: 49
Average Number of Projected 2012 Employees: 691
Number of businesses owned by women of color: 14
All the 50 companies were honored at a special event hosted by American Express OPEN at the 2012 WPO Annual Conference in Atlanta, Georgia on April 26, 2012.
You can download the entire list here.
The Women Presidents' Organization: An Overview